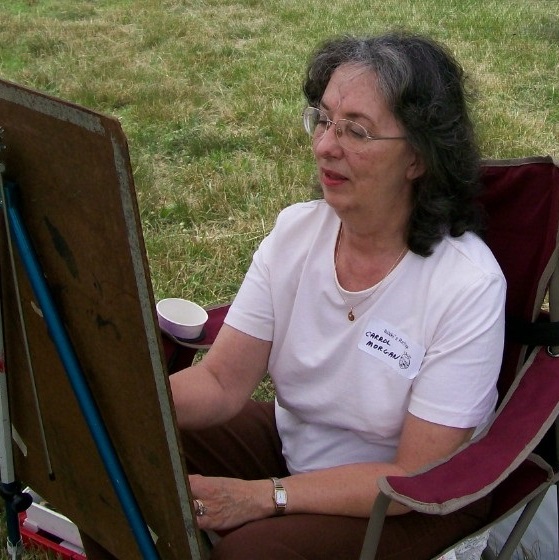 Carrol Morgan grew up in Dumfries, Virginia.  She received her BFA degree from Richmond Professional Institute (Virginia Commonwealth University) and her Master of Arts in Liberal Studies from Mary Washington College (University of Mary Washington).  Additional studies include seminars of the Getty Center for Education in the Arts at the University of Cincinnati and at Cranbrook Academy of Art, Bloomfield, MI; Art Educators' Forums at the Savannah College of Art and Design; and studies with Tony Sheets, Dave Daniels, Willie Crocket, Steven Walker, Sara Poly, Diane Tesler, Johnny P. Johnson and Cathy Ambrose Smith.  She is a member of the King George Art Guild, Colonial Beach Art Guild, the Fredericksburg Center of the Creative Arts (FCCA), and the North Windsor Artists.  She has received numerous awards in juried and regional art shows, and her work is represented in many private collections.  Her art media includes printmaking, mixed media, acrylics, watercolors, oils, watercolor and charcoal portraits.She is an advocate for the arts and art education.  She taught art in King George County Public Schools for thirty-four years and has taught adult and children's art classes for local arts organizations.
A Statement from Carrol:
My art work is varied, and I move from one media to another to paint, draw or investigate new techniques.  I am intrigued by color, reflected light, vistas, the human figure and faces.
My oil painting series of farm vistas has grown from my love of farms in Maryland and Virginia.  I work in plein air and from my photos.  My paintings of old rusting vehicles remind me of a rural past, and I attempt to capture their colors and the nostalgia of their presence in back fields.
Watercolor is my favorite media for quick sketches of landscapes, figures and portraits.  Small, quick studies satisfy my artist appetite for a finished painting in one sitting.  I have produced charcoal portrait sketches during my entire career.
You can find Carrol at LibertyTown on the North Windsor Wall